Ra Chand Products
We have revamped our Model J210 and Model J500 Citrus Juicers. They are stronger and more durable than ever before. We are constantly getting inquiries from all over the U.S.A. People and business are asking where they can purchase a juicer in the area they live.
I strongly recommend purchasing several juicers to stock your inventory. If you have it you will sell it. We also have 3 different sizes of steak weights, sizzle platters, lemon lime presses, bucket opener, tortilla presses and several other useful tools for commercial use or home kitchen.
Also, replacement parts are always available for the juicers.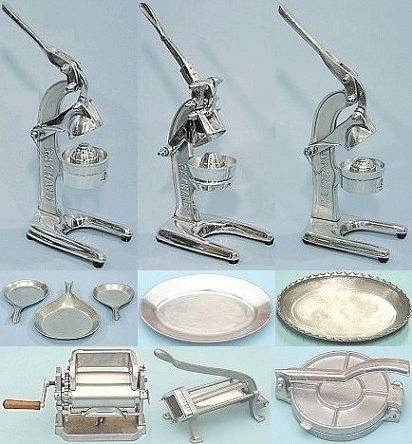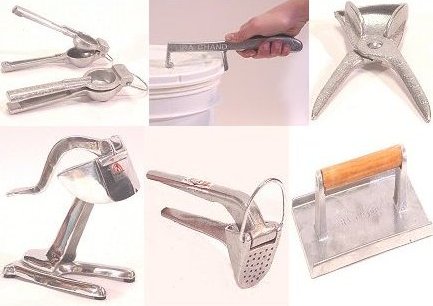 We wholesale only to Equipment Dealers and Equipment Distributors and International Dealers and Distributors.
Ra Chand Commercial grade juice extractors, orange juicers, citrus juicers, garlic presses, lemon press, lime press, steak weights, tortilla press, corn tortilla machine, lid opener, pale opener. Our Ra Chand juice extractors orange juicers and citrus juicers are used in 1000's of commerical establishment thru out the world.
All of our products are commercial grade. We have the strongest and most durable manual juice extractors, citrus juicers, orange juicer, grapefruit juicers on the market. Our lime presses and lemon press are an industry standard. We also have tortilla presses and garlic presses, corn tortilla making manual machine, hand held ice shaver, steak weights, bacon weights and a fantastic lid opener for 5 gallon pails. You can trust Ra Chand / Artimetal manual citrus juicers to do the job. If you not using a Ra Chand juicer you are losing money. Start making money and get squeezin, there's nothing like fresh squeezed orange juice or lemonade.
You need to be a qualified equipment dealer to purchase from us. We invite your inquries to the following telephone #'s and email address. Please contact any of the following #'s. If you need to find an equipment dealer near you please contact us.
Telephone: (520)624-2887
(800)624-2128
Fax: (520)888-2657
email: Rachandproducts@hotmail.com